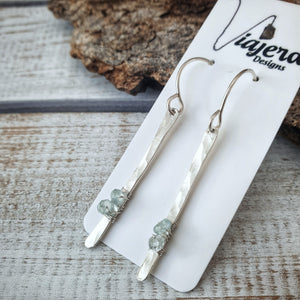 Simple Sterling Silver Bar Earrings with raw aquamarine crystals. Lightly hammered for an extra bit of sparkle.
Due to their handmade nature, the length will vary slightly with each pair and there may be small differences within the pair.
A simple, yet stunning pair of earrings.
DETAILS
💕 Gorgeous raw garnet crystal detailing. March's birthstone, aquamarine is believed to a powerful healer, alleviating stress and emotional pain.
💕 935 Argentium sterling silver is slightly purer and more tarnish resistant than 925 sterling silver.
💕 These earrings are made of recycled silver and are hypoallergenic, making these earrings the perfect little gift.
💕 Average length: 4.5cm
Also available in 14k gold fill.